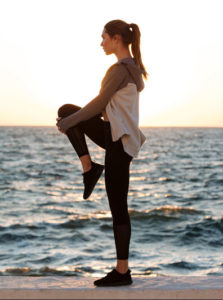 Newly minted Federal agent Codi Sanders has struggled most of her life. Though most people would think she had it easy growing up as an only child along the coast of San Diego. The fact is, Codi was a product of a broken family. A family that had finally snapped, following the untimely death of her military father. Codi's mother nearly self-destructed. She dipped into depression and disappeared for days at a time.
Codi became a latchkey child who was forced to fend for herself. Codi's Mom moved them every year or so in search of better – Better boyfriend, better job, better grass.
In time, Codi found that the only person she could really count on was herself. She had used that as a motivator to find her independence and stand on her own. In high school, she found that few people were as fast as her in the water and capitalized on that ability to pay for her college.
Codi was five-eight with a busty athletic frame. She had shoulder-length brown hair, olive skin and intense brown eyes with flecks of gold. In a word – stunning. But that was just the cover, inside was an extremely intelligent, street wise and determined female. She was open for a chance at love but found most men a disappointment.
After graduation, in spite of several promising opportunities, Codi joined the Marines as an enlisted soldier. She was trying desperately to prove herself worthy to a father who was only a memory and nothing would get in the way of that.
Three years later, she was accepted into BUD/S (basic underwater demolition). Other females had paved the way and she was determined to carry on in their footsteps. The school was relatively easy for her, as she was a natural in the water and always had been. But she had to overcome her fear of heights to complete the parachutist course. Once she was chosen for SEAL training, she felt like she could do anything, She tended to excel at almost any task and this made for some uncomfortable male teammates.
Codi was derailed by her jealous fellow soldiers who conspired together leaving her injured and unable to continue. She had been forced to tap out of her dream and the repercussions had been devastating.
She found herself in a downward spiral as hopelessness and despair swelled, threatening to take on physical proportions. A dark place called to her and Codi fought to stay the hell away. It was a battle she had lost and won over the course of many months.
A chance recommendation from one of her commanding officers placed Codi as a Federal Agent for the General Services Administration. She was effectively a paper cop. But the new opportunity had given her a chance at redemption. And when circumstances allow, Codi will find her strength again and prove to herself and the world that she is more than capable. In fact, she has a force of will that cannot be stopped, changed or detoured. Much to her boss's Chagrin.